From Money Stress to Financial Savvy
Mary wanted the best for her family, but money was tight. She was a stay-at-home mom, but ready to start generating income again. She had a variety of valuable skills and dreamed of launching a farm-to-table catering business. However, she was confused about her finances and didn't know whom to ask for help. She avoided the topic of money with her husband, and a bookkeeper just shamed her for not managing her receipts better. She was bogged down by her financial doubts which caused serious financial losses.
Mary attended one of our "Discover Your True Wealth" events and learned how to put a stop to her financial losses and find untapped assets in herself that boosted her net worth. She implemented those assets to launch her ambitious new business and adopted a fresh attitude toward money that enabled her to appreciate rather than worry about the intensified financial activity. She even shared the joy of this winning strategy with her husband, who enjoyed planning financial satisfaction rather than arguing about financial doom.
With regular support from our group of feminine leaders, entrepreneurs, and mothers, she was able to master her money with confidence. Our conversations helped her shift her money mindset so that she could negotiate better deals. She never gets bank fees anymore and successfully manages three employees. Like so many women in our community, Mary now defines financial success on her own terms and knows how to value herself and to access the support necessary to amplify her influence.
What to expect from this course
A FINANCIAL APPROACH THAT BUILDS TRUE WEALTH.  (Save money through reflection on what's most valuable. )

COMMUNITY CONNECTION. (A private Facebook group, we share resources and stories, successes and struggles.)

A WHOLE NEW STORY OF MONEY AND VALUE (Receive instruction and insight from Crystal and four guest faculty with extensive experience.)

NEW FINANCIAL OPPORTUNITIES. (Learn innovative approaches to greater prosperity.)

IMPROVE YOUR NEGOTIATIONS. (Learn to communicate with greater influence for satisfying outcomes.)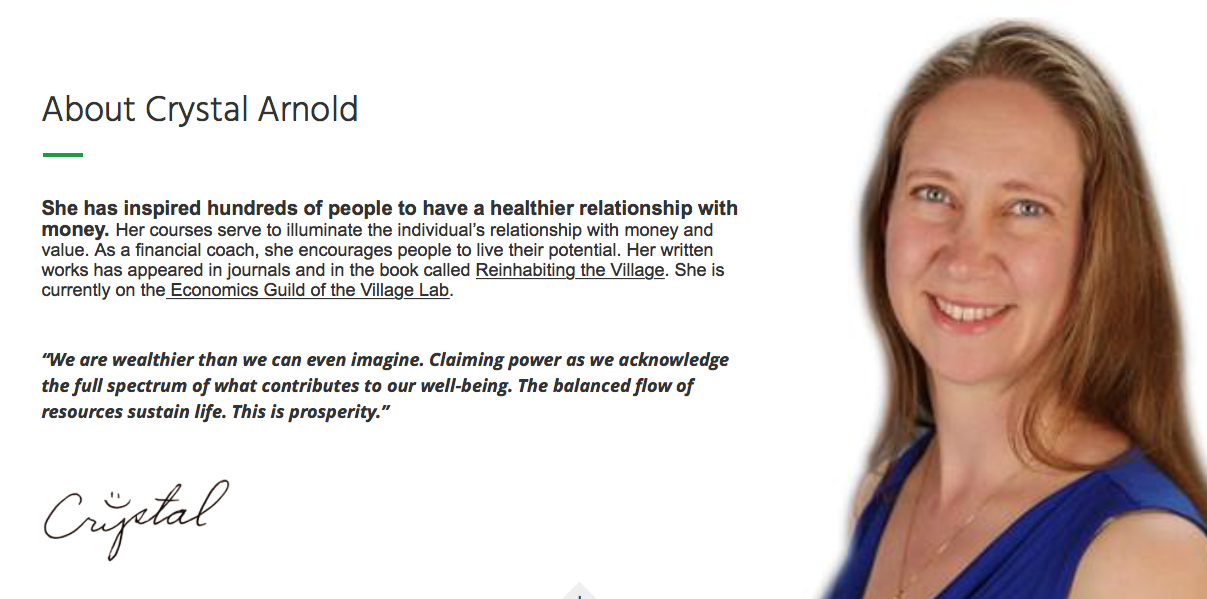 What People Are Saying
I HAVE BEEN ABLE TO SHIFT MY PERSPECTIVE. "Through Crystal's guidance, I have been able to shift my perspective and open up to bookkeeping and money and the energetics of it as a more playful, empowering, and fun experience. This was very profound for me and has been a big part of my shift into more prosperity consciousness. By making these conscious choices to learn these tools and techniques we become more empowered."
Rennie Jeffus,
Founder Revolutionary Radiance
I AM IMPRESSED WITH HER PSYCHOLOGICAL UNDERSTANDING OF WEALTH AND VALUE. "I had the privilege of co-teaching with Crystal in the Discover Your Wealth course in 2015, and I am impressed with her psychological understanding of wealth and value. She artfully and practically helps people to take charge of their lives through an eyes-open approach."
Suzanne Yahya Nadler,
somatic therapist

BONUS: Find ease when talking about money.
Download 2 PDFs on how to gain financial allies through better money communication techniques.


FAQ
What if I can't make the weekly calls?
All webinars will be recorded with unlimited lifetime access. You can watch them again anytime. But you don't benefit from the live features of sharing and contributing
What happens next?
After you register and pay for the course, you will immediately be sent your log-in information, where you can access the first module and bonuses. You will be notified by email of all course updates.
How long do I have access to the course?
Lifetime unlimited access. You are a key part of this creation. This is a long-term investment with immediate benefits.
How much does it cost?
Your investment is $247 for the complete course, with life-time access. Bring a friend for 50% off their tuition!
Why should I buy this course instead of those other get-rich affirmation courses?
Life has its ups and downs. Effective transformation is catalyzed when we acknowledge suffering. We are unique in that our approach considers relationships to be foundational for all value assessment and wealth management. This collaborative experience will actually increase your wealth. As an economist, Crystal has a unique and practical perspective.
What makes our faculty special?
Our faculty includes women with decades of experience. These women have history in social work, financial planning, non-violent communication, and in marketing. They've seen the money struggles of thousands of couples and individuals, advising and assisting in transformation. Each offers practical tools to gain greater confidence as you speak about and manage your money.
How does the guest discount work?
Women thrive with greater support. Share this experience with a loved one, near or far. When you register, you will be given a special link to share with a loved one for 50% off the course price. Together, we amplify our individual potential. Have those money talks with someone you care for.
How can I get a refund?
To request a refund, simply email us and explain the reason why. If you have been using the course but not experiencing benefit then, we will refund your money via Paypal.
Didn't find the answer you're looking for?
Email us at support@money-morphosis.com and we will get back to you within 36 hours.